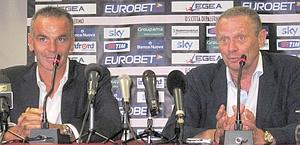 After 25 days the first team to start will be Palermo, who will play in Europa League. Palermo got new manager, he is Stefano Pioli (ex-Chievo). Lets present now how can play the new Palermo of Stefano Pioli in season 2011-2012.
Most probable lineup will be:
__________________Sirigu___________________
Milanovic__________Bovo____________Mantovani
Cassani__Migliaccio______Nocerino__Balzaretti
______Pastore__________________Ilicic_______
_________________Hernandes__________________
In his first press conference he said that teh tactic of the team will be 3-4-2-1, or 3-5-2, or even 4-3-2-1. Liverani, Kasami and Garcia left the team. Liverani was used mostly as playmaker in cetre of midfield, so after he left, Palermo is searching for a playmaker, similar to him. For the moment Palermo lack in centre of midfield, when they need to buy 2 more central midfielders. Nocerino can't play all the games, while Migliaccio sometimes get booked, or injured and so far there is no real substitute for these 2 players.
As said above Pioli like to play with 3 defenders, so in this case they will use potential defensive players in midfield, so Cassani and Balzaretti as moving one step forward from their original positions.
Palermo signed with Mantovani and Milanovic, who are going to play respectively as Left Back (Mantovani) and Right Back (Milanovic). In midfield as said above will not me any big change appart the fact that RB Balzaterri is moving as Right Back Winger and LB Cassani is moving as Left Back Winger.
Pioli like to play with 2 attacking midfielders, so Ilicic and Pastore will play behind the lonely striker which will be Hernandez. Miccoli seems to start from bench, but most probably he will leave the team to another club.
The objective of Palermo are:
Beric (Maribor striker)
Parolo (Cesena, midfielder)
Alvarez (Velez, midfielder)
Carrasco (Audax Italiano, midfielder)